Men Need Self Care Too - A Father's Day PSA
Men Need Self Care Too - A Father's Day PSA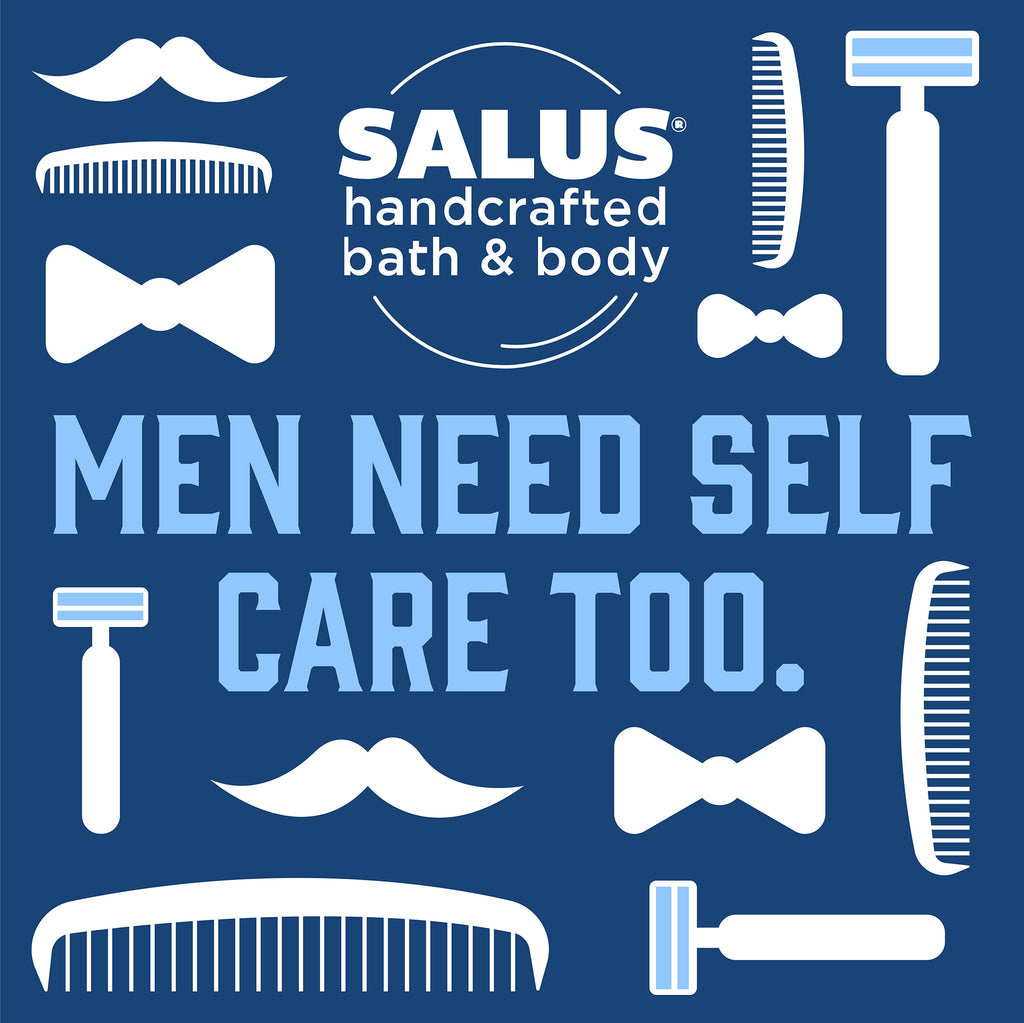 Let's get serious about a topic that is rarely ever discussed in a light of importance- men's self-care. Why is it that men aren't supposed to relish in taking care of their bodies and minds? Skincare? "Not masculine." Long showers (or heaven forbid a BATH)? "Not masculine." Taking the time to clear their mind? You guessed it. We feel it is time to allow men the joy that comes with self-care, physically and mentally. Salus is here to bridge that gap!
Did you know your skin is the largest organ of your body? That alone means it deserves the proper care and consideration just like any other part of your health regimen. Your skin is also not the same on every part of your body. The skin on your face is different from the skin on your neck and different from the skin on your back, etc. However, the accessibility of the skincare is just as important as the quality. To bridge the gap as we want to do, it must be easy to use, minimal steps, with maximum results. That's why we decided to create the "Raise the Bar" set for Father's Day and Men's Health Week. It is a combination of 5 bars men will love using that each have their purpose. A charcoal bar for facial cleansing, a Shampoo Bar for the hair, an Easy Street Wheat Bar Soap for infusing the goodness of beer and hops into the body, a Peppermint Shaving Soap for a smooth shaving experience and an Urban Cowboy Lotion Bar to condition the skin and add a classic masculine scent. Together these bars will give any man the confidence to rule the world.
Can we also get rid of the notion that baths aren't "manly?" Mostly because it's quite ridiculous to negate all the benefits baths can bring simply because they take longer and (let's face it) can be more relaxing. We paired our Muscle Ease Herbal Salt Soak with our Muscle Relief Gel Roll On in "The Marathon Man" because you can't deny the soothing benefits of a salt bath. After a long day of work, a workout, or for anybody dealing with a sore body, this is for you. Optionally pair with a bath bomb, yup I said it, for aromatherapy and unbelievable moisture. We have many scents that men can enjoy without feeling like they are using their girlfriend's bath bombs. Try Mountain Mint for a refreshing experience for both body and sinus. If you're feeling earthy, try the Herb Garden. You can even add a WholeMade Bath Bomb if you want to infuse your bath with full spectrum hemp extract! Use this bath as an excuse to calm your muscles and to take a minute to breathe. A good podcast, some meditation, whatever makes it a peaceful experience!
We have other gift set options for the men in your life, as well as some of our men's favorite product picks. Get dad the gift of self-care this year, he'll feel special knowing you thought about his needs in his daily routine! Happy Father's Day from us at Salus.