Put Your Best Face Forward
Put Your Best Face Forward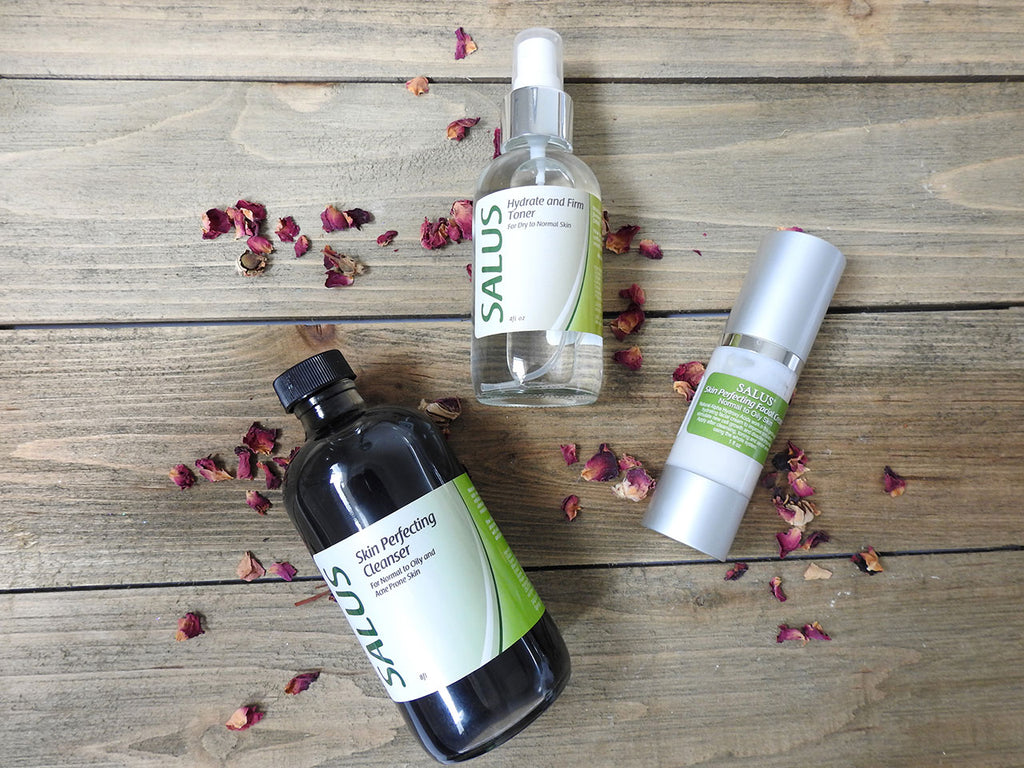 Let's get real about your facial care.
Your skin is the largest organ of your body, and can be used as an indicator of your internal health and the impacts of your daily lifestyle choices. While there are many things you can do to promote good skin from the inside, taking care of your skin externally with a quality skincare routine is also just as important. Today we will look at the most noteworthy steps of a daily skin routine and the Salus products you can use based on your skin's needs.
Let's start with cleanser.
This is your first topical step towards good skin as it removes impurities such as dirt, excess oil, pollutants, and more. Washing your face helps you to unclog your pores, allows your skin to breathe, and aids in keeping issues like acne in check. The typical types of skin are dry, sensitive, oily, normal, combination dry, combination oily, or acneic. Depending on your skin type, you should seek out a cleanser that works for you.
Our Organic Aloe and Green Tea Cleanser is formulated for dry, combination, normal, and sensitive skin types. Green tea has been shown to do wondrous things for the body, packed with things like antioxidants that help fight free radicals, and when used for the skin, green tea has shown to help fight against cancerous skin changes and inflammation. Aloe has also shown to be helpful in reducing acne redness, soothing skin, and minimizing acne scarring over time.
Our Skin Perfecting Cleanser is a product that works for normal, combination, sensitive, and acneic skin types. One important ingredient in this cleanser is activated charcoal; this filters the skin by using electrical attraction to draw out chemicals and toxins. Along with the charcoal, we have included Alpha Hydroxy Acid to act as a gentle, natural chemical exfoliant that aids in treating acne and other skin issues.
Once you have cleansed your skin thoroughly, the next step is to
tone
.
Some people overlook toner as an important step; however, it is a crucial component to a full skincare regimen. Toner both balances the PH of the skin after cleansing, but also removes any excess cleanser, dirt and other impurities. To properly tone, dry your skin from cleansing, apply the toner, and gently massage in with clean hands or a cotton pad.
Our Hydrate and Firm Facial toner is a great option for those with sensitive to combination skin, containing refreshing ingredients like aloe, and rosewater, along with DMAE which is an ingredient that can tone and tighten the skin.
The Skin Perfecting Toner is formulated for all skin types using ingredients to help rid your skin of acne causing bacteria. This toner has been blended with Alpha Hydroxy Acids from apples, citrus fruits, grape wine, sugar cane and dairy, along with aloe and witch hazel.
Now that your skin is fresh and squeaky clean, it is important to finish off with
moisturizer
.
Once your skin has been thoroughly cleansed of any impurities, the final step is to absolutely always apply moisturizer. I know what you are thinking, "my skin is way too oily for moisturizer!" or, "It doesn't matter what I use as a moisturizer, it all works the same." Both of these ideas are actually incorrect. No matter if your skin type is dry or oily, moisturizing is extremely important.
You have just spent all this time removing the oil from the day off your face; however, if you fail to replenishing the hydration your skin needs, then your skin will in fact create an excess amount of oil to replace what's missing. If that happens, no matter how much you wash your face, your breakouts and other skin issues can become worse.
One way to have some control of the oil levels on your face is to regulate it with your skincare regimen. It is just as necessary to find a facial lotion that suits your skin type as it is any other part of your skin routine.
The Antioxidant Facial Cream offered at Salus is a fantastic option for those who are dealing with dryer skin and issues such as aging. The antioxidants in this product help fight against aging and provide deep moisture with ingredients like avocado oil, jojoba oil, and organic palm oil. It is jam packed with vitamins like vitamin A, C, E and pro-vitamin B5; your skin will never feel smoother.
Our Skin Perfecting Facial Cream is the perfect final step to follow up the rest of the Skin Perfecting line with. Blended to be suitable for any skin type, anyone can confidently use this moisturizer, especially those who are oily or acne prone. This product is formulated to be complimentary to the rest of the line, and has similar ingredients like Alpha Hydroxy Acids, aloe, green tea, and more that will allow you to finish off your skin routine strong.
Once you have a solid skin routine down, you can then work on adding in extra steps, like our
under eye cream
and
serum
, along with our
dead sea mud mask
. However, it is important to keep it simple when you are just getting started into developing your regimen. The easier and more approachable your skincare system is for you, the more likely you are to develop it into a healthy habit.

Your skincare is an important step in maintaining flawless and healthy skin. Of course other factors like diet and sleep habits have an effect on your skin's overall appearance, but your skin routine is the icing on the cake.

Hopefully now, you feel more knowledgeable on the topic and can make an educated decision of which Salus products will help you achieve the skin of your dreams.
~ Written by Elijah Cordova, Salus Social Media Manager